Giving new meaning to the term "celebrity chef," artist Salvador Dalí released a fantastic cookbook in 1973, dedicated to his wife. The work, Les Dîners de Gala is an opulent, colorful and unabashed celebration of food and the matter of entertaining. Within its chapters are feasts for every occasion and dishes that both delight and repulse in equal measure.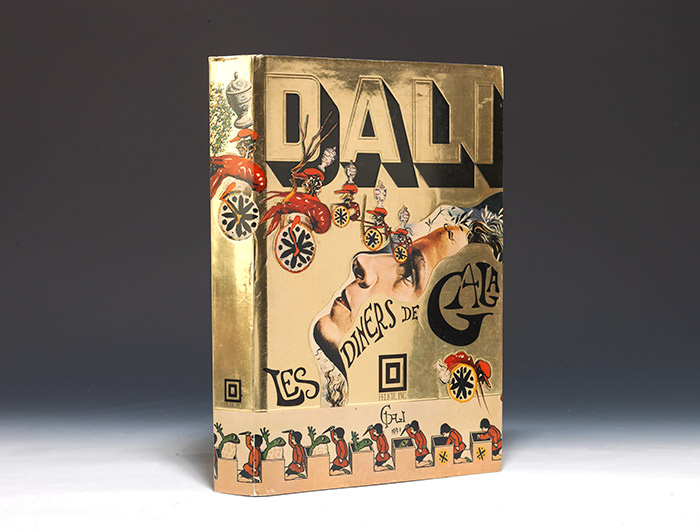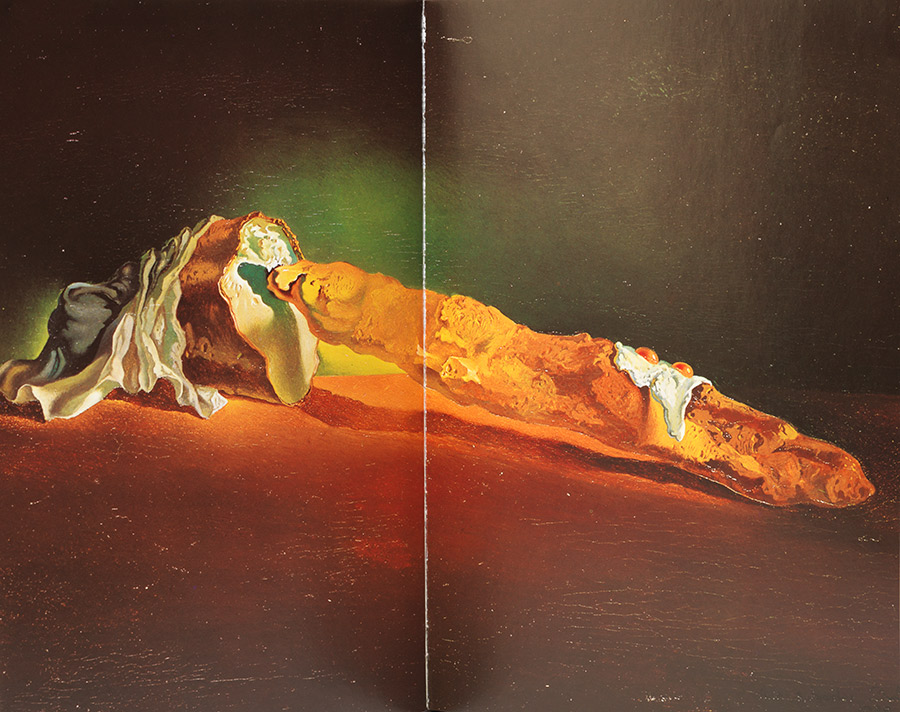 The ingredients are not for the faint-hearted. The meals are rich and elaborate, designed to be enjoyed with good company and copious bottles of wine. But regardless of your tastes, you would be hard-pressed not to find something to appeal to your inner Epicurean from at least one of the 136 recipes featured.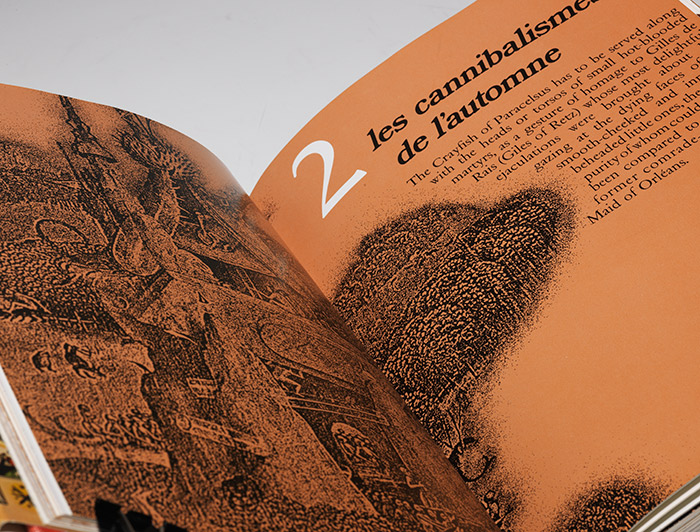 Despite publishing Les Dîners de Gala during the latter half of his career—Dalí was 68 and in a period some critics believed was not representative of his most original work—there is nevertheless something forward thinking and provocative about the book. Here is a sumptuous look at the relationship between food and passion, and given Dalí spent his life trying to shock, it should come as no surprise that this work includes risqué illustrations.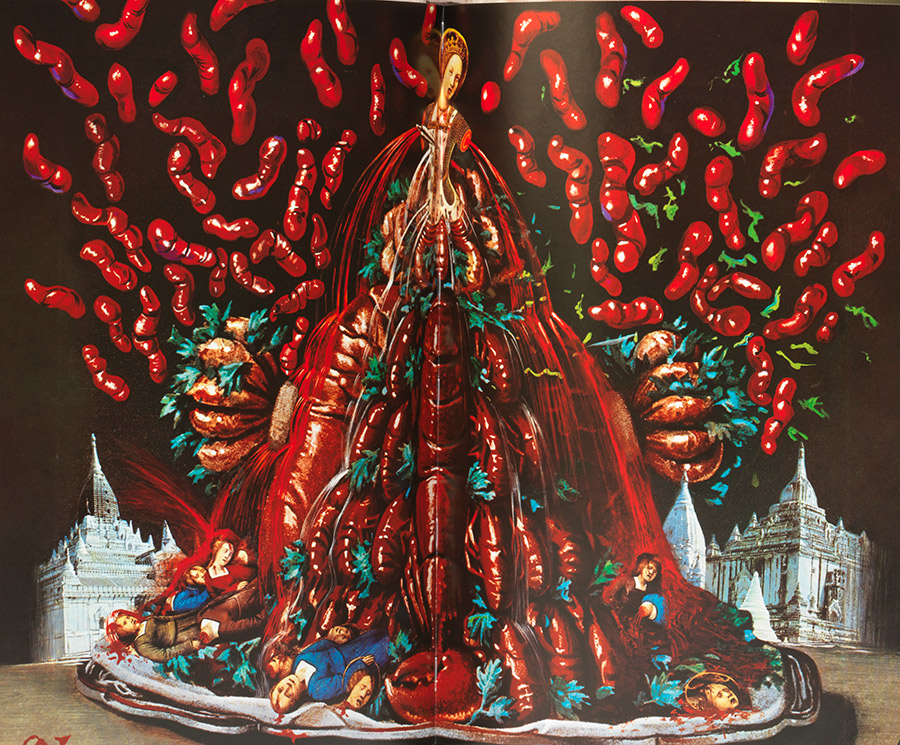 Up for discussion is a variety of foods from shellfish and snails to aphrodisiacs, viewed through the hungry eyes of Dalí, who, already well-versed in the sexual psychoanalytic theories of Sigmund Freud, plays with these notions with wild abandon.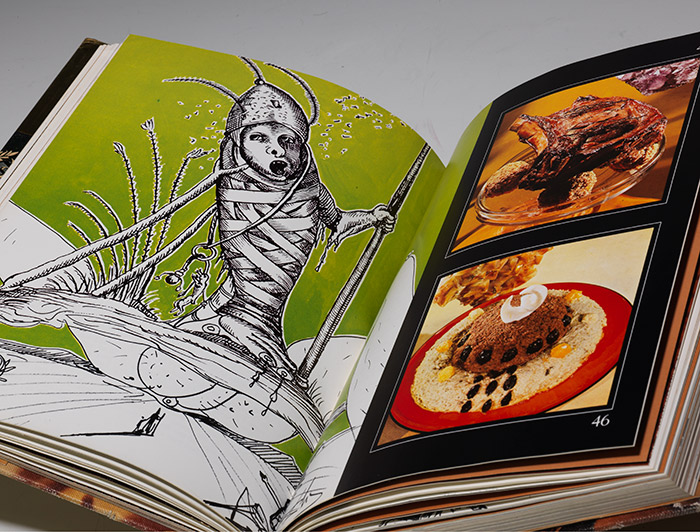 From the beginning of his career, Dalí found inspiration in the work of the French Surrealist painters, artists such as René Magritte and Jean Arp, who were taking Freud's theories and applying them to their work. In cultivating this fascination and making it his own, Dalí earned a cover feature with Time Magazine in 1936, following a number of solo exhibitions in Paris and New York City three years earlier—events, one should note, that took place not long after he met Gala.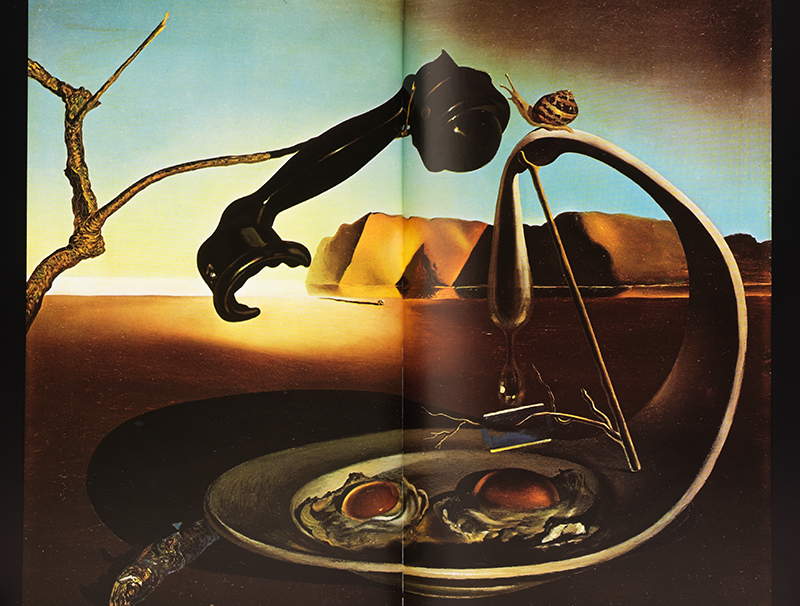 The book's colophon reads:
"The divine Salvador Domenech Philippe Hyacinthe Dalí conceived and materialized this work dedicated to Gala. All the recipes in this cook book, never before published, have been elaborated with great precision by a 'chef' wishing to remain in the most secret anonymity."
Dalí met Gala in the summer of 1929, while staying at the family's getaway home in Cadaqués, a Spanish fishing village famed for its tranquility and frequented by several artists over the years including Pablo Picasso, Joan Miró and Marcel Duchamp.
Gala, her full name being Helena Diakanoff Devulina, was married to the French poet Paul Éluard at the time, and was ten years older than Dali. Their affair began almost immediately and would result in marriage in 1934. Needless to say, she would prove to be his lifelong companion and inspiration.
In 1977, Dalí followed up Les Dîners de Gala with Les Vins de Gala, a book detailing wines and famous vineyards, equally impressive for its illustrations and artwork. Together the books make for a fascinating look into the couple's lives, and whether they form the centerpiece of your next table setting or hold pride and place among your cookbooks, these attractive pieces will always make for great dinner conversation.