The path to favorite books is hardly ever the same. Whether assigned to you in school, recommended by a friend, a familial right of passage, or just bought in the bookstore because you thought the cover was cool, who really cares? It doesn't matter how you got there, only that you did. Some are the came-out-of-nowhere type, too, and for me, that was William Gaddis' J R (1975).
I came to "discover" William Gaddis by way of David Foster Wallace. A friend sent me a commencement speech Wallace gave at Kenyon College back in 2005. It was a refreshingly simple and immediate piece of writing about getting along and I loved it. The next step was to learn as much as I could about Wallace. Any quick search on him inevitably leads to his being the author of the massively awesome Infinite Jest (1996).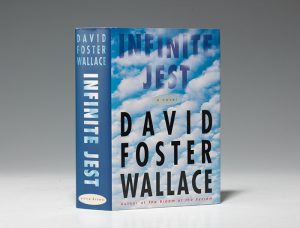 The book is so enormous and dense and mighty in its scope that the day it was published it put Wallace in the company of Pynchon, DeLillo, Barth, and Gaddis.
Pynchon's long been a favorite of mine. I've read and enjoyed some DeLillo. Even one by Barth, too. But…Gaddis? Who's William Gaddis? I don't think I'd ever even heard of this guy, much less read anything by him. The writer, Cynthia Ozick said he was "famous for not being famous enough." What did that mean?
Turns out he published his first novel, The Recognitions, in 1955, and with it Gaddis took on the unofficial title of first and earliest champion of American Postmodernism. The book checked in at 956 pages and was so packed with bountiful, comma-filled prose and encyclopedic knowledge, then paired with a highly interwoven plot, that reviewers and readers alike moved through it very slowly, if at all.
I'm part of that not-at-all crowd. I'd become intrigued by Gaddis, but decided to start with his second book, J R, strictly because it was shorter, albeit only by 200 or so pages. The Recognitions had gone relatively unnoticed in the years immediately after its publication, though it did gain an eventual following.
The same cannot be said of J R, though. Its publication in 1975 ended a 20 year hiatus for Gaddis and it would go on to win the National Book Award.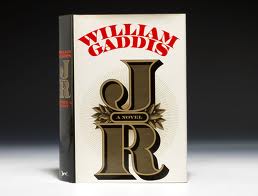 The book tells the story of an 11-year-old schoolboy from Long Island named J R Vansant. After visiting the New York Stock Exchange on a school field trip, J R assembles a massive paper empire. Playing entirely by the rules, and aided by some timely defaults and bankruptcies, this kid turns some penny stocks in to a massive conglomerate, called the J R Family of Companies. Good deals abound and J R takes full advantage, completely oblivious to the potential consequences. But, when the pork belly futures market crumbles, so does his empire, and with it the jobs, towns, and lives of people he's never met.
The story is important, yes, and well told, but the real mind-blowing part to me was the writing. To avoid boredom in front of the typewriter, Gaddis challenged himself to write a book with no chapters or breaks of any kind. The story happens in real time. Then there's this: the entire thing is written in dialogue, there is almost no narration. Gaddis lets the characters speak for themselves, with no narrator telling you how to feel about them or their absurdities.
The result is a noisy book. Many times you don't even know who's doing the talking. But that doesn't totally matter. It only matters what they're saying, not always who's saying it. This makes the book incredibly frustrating at first. But, after hunkering down, it becomes wonderfully beautiful, and hilarious, too.
Gaddis challenged himself, and in turn challenged us as readers. It was a very difficult book to read (726 pages of pure dialogue!), but it was also incredible and important and current. When I read the last line I knew I'd finished something remarkable. It became an immediate favorite and I didn't even know it existed.
So I mean listen Gaddis' got this neat idea, hey you listening? Hey? You listening…?
What are some of your favorite books? How did you come to find them?