More than 25 years ago, a stranger named Harris Burdick entered the offices of a well-respected children's book editor named Peter Wenders. Burdick explained that he had written 14 stories, each of which was accompanied by numerous illustrations. He presented Wenders with 14 of those illustrations – one from each story – and asked if the editor would like to see more. Wenders replied most enthusiastically, so Burdick promised to return the following morning. But, he did not. He was never seen again. Or so the legend goes.
The portfolio of illustrations presented in The Mysteries of Harris Burdick is very real. The story that an artist left them in the care of an editor is not. The art belongs to Chris Vans Allsburg, and the fictitious origin story is his sly embellishment.
Of the 14 stories Van Allsburg alludes to in the book's introduction, very little is known. Indeed, the only hint to be had is the title and caption that each illustration bears. The reader then must decide what the "lost" story might have been.
Who exactly is Archie Smith?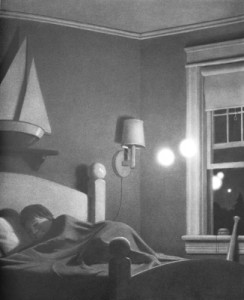 A tiny voice asked, "Is he the one?"
What is that on the horizon? A city? A trick of the light?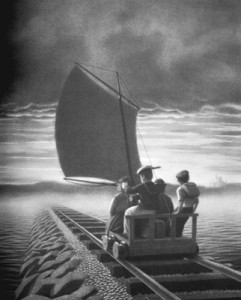 If there was an answer, he'd find it there.
The illustrations range from the humorous…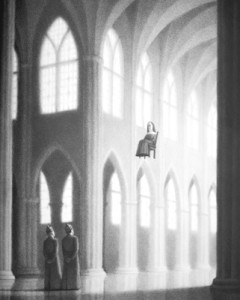 The fifth one ended up in France.
… to the unsettling.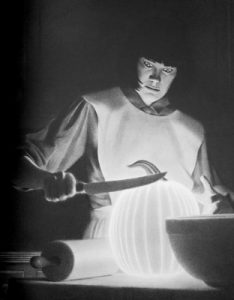 She lowered the knife and
it grew even brighter.
…to the poetic.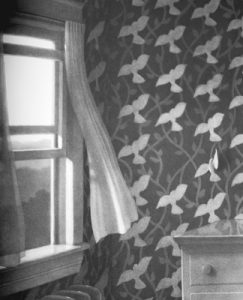 It all began when someone left
the window open.
…to the (potentially) horrific.
He has warned her about the book.
Now it was too late.
What might at first glance seem to be a de facto picture book is instead a collection of myriad possibilities. So evocative are the combinations of illustration, title, and caption that the book has spawned numerous writing contests and countless lesson plans. Writers like Stephen King, Sherman Alexie, Lois Lowry, Kate DiCamillo, and Gregory MacGuire have all contributed to the Harris Burdick canon. (See The Chronicles of Harris Burdick, published 2011.)
Van Allsburg is more readily recognized for the towering success that is The Polar Express, and certainly I understand the appeal of that book. Otherworldly trains and Christmas elves and being chosen first from among thousands. But for me, the best of Van Allsburg's imagination, the best of his art, is found elsewhere – Wreck of the Zephyr, The Widow's Broom, and most especially The Mysteries of Harris Burdick.
Stop into our Las Vegas gallery, where a first edition of The Mysteries of Harris Burdick, signed by Van Allsburg, is on display now.