Little known fact: Lewis Carroll paid for the printing of Alice in Wonderland himself.
Surprisingly, this isn't actually all that unusual when it comes to illustrated titles published in the Victorian era. Heavily illustrated books have always been expensive to produce, and many publishers simply weren't willing to outlay the funds. Another famous example: L. Frank Baum and W.W. Denslow had to pay for The Wonderful Wizard of Oz to be printed.
Another little known fact: Alice in Wonderland marks the beginning of the so-called Golden Age of children's literature. In other words, Alice is the first signpost of books written exclusively for children.
Prior to Alice, children's literature was considered a kind of teaching vehicle, a way to instruct young people in moralistic or religious prohibitions, and the books and stories were often adapted from adult literature.
Printed in 1865, the first edition of Alice contained 2000 copies. From those 2000, Carroll was afforded 50 Author's Copies, which he then signed and presented to friends and family. The story of what happened next has become something of a legend in the book world.
When John Tenniel, the illustrator, received his advance copy of Alice, he wrote Carroll to say that he was "entirely dissatisfied" with the quality of the illustrations. (Tenniel, who was a very successful political cartoonist in his day, was apparently pretty grumpy in general where Carroll was concerned.)
Eventually, Carroll canceled the original printing and made arrangements for the book to be reprinted. He recalled the Author's Copies he'd already presented, promising each recipient a replacement copy once the book had been reprinted. There was just one problem. What to do with the nearly 2000 copies of the book that he already had?
Not wanting to lose the entirety of his investment, Carroll sold the canceled copies of Alice to a New York-based American publisher, Appleton. Appleton then simply slapped on a new title page and called it the first American edition. (The first official London edition appeared several months later in 1866.) Only 20 or so copies of the original edition – with the 1865 London title page – are known to be extant. (The majority of those copies are housed in institutions, both public and private.) What this means is that the first American edition is essentially the earliest obtainable edition as far as collectors are concerned.
In the 1930s, William Empson, an influential literary critic, wrote: "Alice has, I understand, become a patron saint of the Surrealists." Little did he know how right he would prove to be.
In 1969, as their "Book of the Month" offering, the Maecenas Press (a Random House imprint) published an edition of Alice illustrated by the biggest madman of them all – Salvador Dali. Printed as a loose portfolio, which is housed in a custom clamshell box, the book features 12 full-page color illustrations, as well as an original etching signed by Dali.
The illustrations, of course, are vivid to the point of searing and perhaps more than a little insane. All of the usual suspects are present and accounted for – the Rabbit, the Caterpillar, the Queen of Hearts.
But I have to say, the thing I love most is the sometimes large, sometimes small image of Alice jumping rope. You see her first in the frontispiece and then in every illustration thereafter. I usually joke that it's a kind of deranged Where's Waldo.
Mostly I think it's because I see it as Dali's nod to the fact that – crazed characters and beautiful art aside – the most important part of Alice is Alice herself.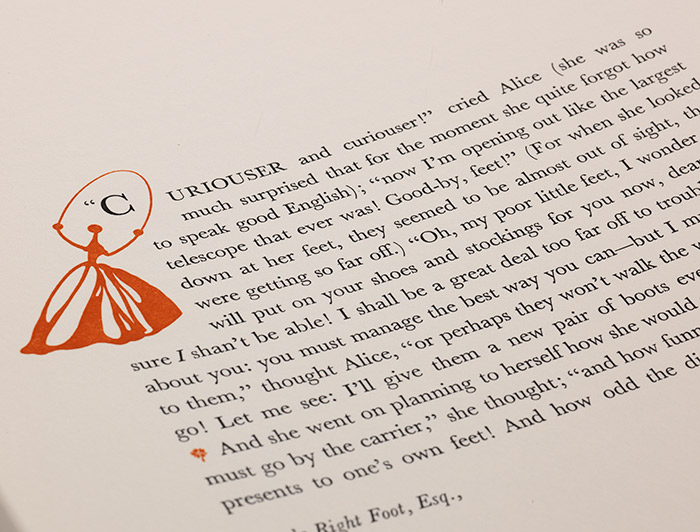 Stop into our Las Vegas, where a copy of Dali's illustrated Alice is currently on display.