It may seem strange that the first collected edition of Shakespeare's works did not appear until seven years after his death, and that 17 of the 36 plays had never been published before (and might have been lost had the folios not been printed). But in the 17th century, plays were not routinely printed and often survived only in manuscript form. They were not considered "serious literature" in the sense that poetry was, so the publishing of a play was not likely to bring social prestige to the author, nor was there a great market for the published work; plays were to be performed and attended, not read.
The folios of Shakespeare, because of their incalculable impact on the language, thought and literature of our world, are the most desirable of all English language books, the prize of any collection. Here are some of our favorite works.
The Fourth Folio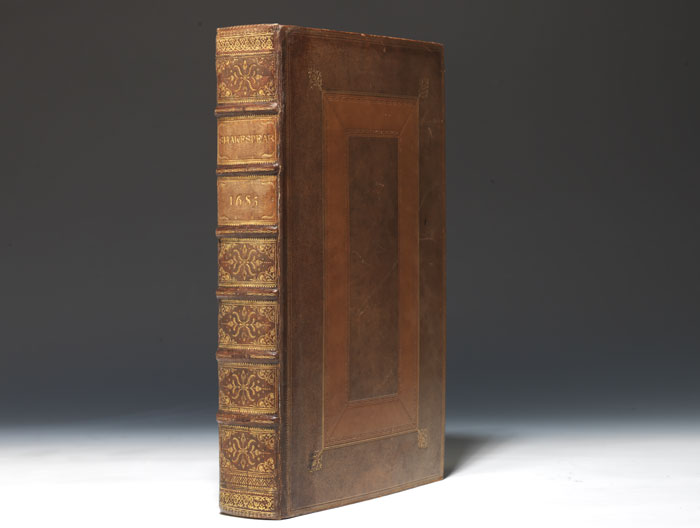 This Folio contains the additional seven plays that first appeared in the 1663 third folio edition, only one of which, "Pericles, Prince of Tyre," is now attributed to Shakespeare. It also contains corrections and modernizations of the text to make it easier to read and understand. This modernization meant the work became the edition of choice for future editors. For example, Shakespeare's first acknowledged editor, Nicholas Rowe, used this edition as the basis for his 1709 edition. The fourth was printed on Dutch Demy Royal sheets, a larger format than any of its predecessors, and the type is in a larger font than the three earlier editions with more spacing.
Henry IV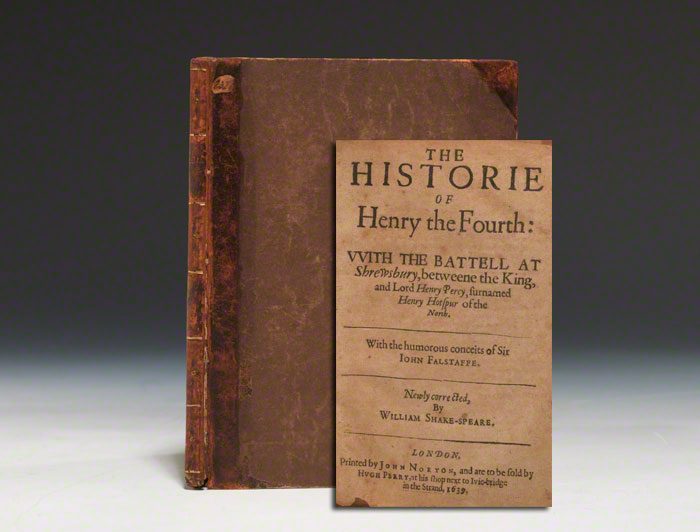 Henry IV, Part I, likely written in 1597, is one of Shakespeare's greatest and most important history plays, introducing the memorable characters of Prince Hal, Hotspur and Falstaff. Of the plays appearing in quarto editions, Henry IV, Part I was perhaps the most popular, with nine distinct editions appearing between 1598 and 1700. In their 1914 census of the Shakespeare quartos, scholars Bartlett and Pollard list only 19 existing copies of this 1639 quarto edition, some defective or restored, most in libraries or institutional collections; their updated 1939 census listed 27 copies. All of the earlier printings are virtually unobtainable, existing in very small numbers, many of which are imperfect, and nearly all of which are in libraries or institutional collections. Few Shakespeare quartos remain undiscovered, and of those that are known, only a handful will ever come onto the market.
Boydell's 1803 Shakespeare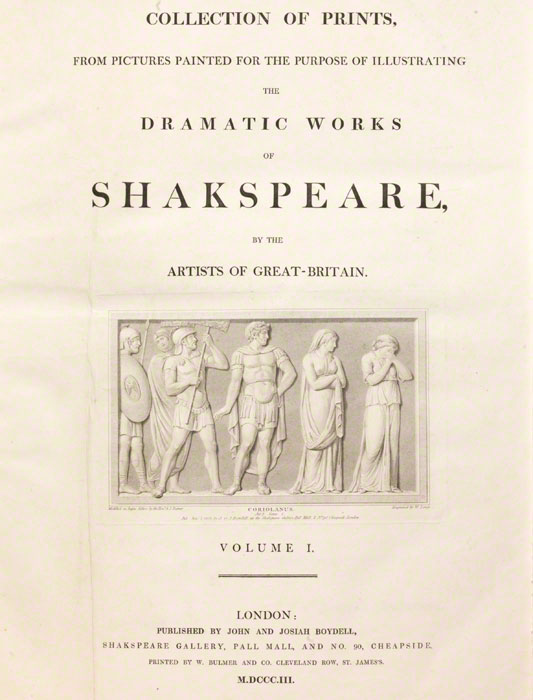 In 1786, John Boydell published by subscription a series of prints illustrative of Shakespeare's works, using engravings made from pictures painted for the work by several English artists. He commissioned the most sought-after painters of England and built a gallery in Pall Mall, London for an exhibition of their work. He spent several years from start to finish on the project. According to Boydell's prospectus, a type foundry, an ink factory, and a printing house were all specially erected for this production. England's finest artists—Reynolds, Smirke, Fuseli, Romney, Westall, Northcote, Hamilton, Threw, Opie, Porter, and others—were all employed for the project.
Hanmer's Illustrated Set of Shakespeare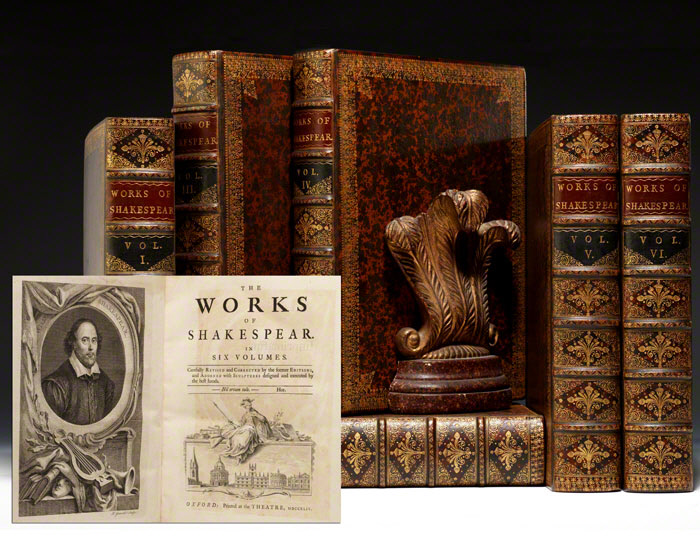 The first edition of this work was published in a small press run in 1743-44. It was a popular book and was proudly displayed in the libraries of the great and fashionable. It was also the first edition of the Bard's plays published at Oxford at the University Press. Sir Thomas Hanmer was a Suffolk landowner and politician; for this work he was the only editor of Shakespeare who refused payment. According to Thomas Dibdin, Hanmer's "Oxford edition" was the first Shakespeare "which appeared in any splendid typographical form." Artist Francis Hayman was considered to be the most proficient English illustrator of his time. His friend and collaborator, engraver Hubert Gravelot (who drew five of the illustrations himself), was considered to be one of the finest engravers and teachers of engraving.
Pope's Shakespeare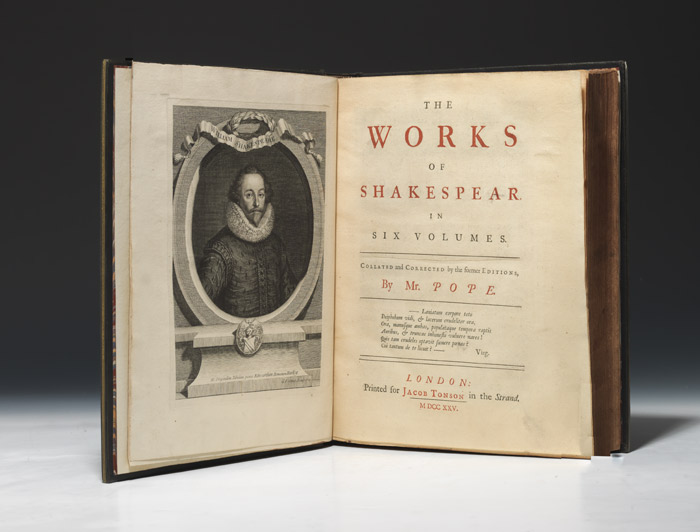 Pope was the first editor to apply a serious scholarly approach to Shakespeare, using 27 early quartos as the basis for his grammatical masterpiece. Restoring sections that had been out of print for nearly a century, his edition guides the reader, in elegant, clear typography, through the work. Such acute attention to detail and critical opinion make this edition an outstanding example of 18th-century Shakespearean research.
[Introduction by Andy Hallman, edit by Sean Samuels]